Smart Watch With TWS Wireless IP67 Bluetooth 5.0 Earbuds Fitness Tracker Heart Rate Monitor Smart Wristband Sports Watch
Xmas?Deal Activated!
Over 20 Dollar
?
5%
?
OFF! USE COUPON:
?
XMAS5
Over 40
?
Dollar?
8%
?
OFF! USE COUPON:
?
XMAS8
Over 60
?
Dollar?
10%
?
OFF! USE COUPON:
?
XMAS10
Over?
8
0?Dollar
?
12%
?
OFF! USE COUPON:
?

XMAS12
Apply the Code in the Shopping Cart TODAY!
Meet the??Earbuds SmartWatch: a wearable device with 0.96¡å screen that not only tracks your fitness activity but also has earphones to keep you connected. It has multiple sport modes. The device is compatible with?iOS?and?Android?devices. It has multiple sport modes.
The device lasts up to?7?days?on the battery. It lets you keep up with your incoming calls and track your workouts.
One device, two functions

Bluetooth headphone wristband, M1 open a new era in smartwatch development

One-click to pair with music device, take it out from the casing, power it on

Colorful screen and new glass technology read clearly in the open air for outdoor sports

Multiple sports modes, scientific analysis to improve your exercise and workout

Simple and free lifestyle, check your daily data on your device

PWTT algorithm, high accuracy

IP67 waterproof, no worry about rain and sweat
Note:?If there is only one side of the headset, you must reconnect the headset: first, double-click the two headsets at the same time for about 5 seconds, then turn off the phone at the same time, then press and hold the touch button for 16 seconds, and then release the pair. (The connection needs to turn off the Bluetooth function of the mobile phone)?
Functions:
Ai Smart
iPhone Siri
TWS stereo headphones - single or two simultaneous use
Heart rate test
Blood pressure test
Step counting, mileage, consumption
Sleep monitoring
Sedentary reminder
Lifting wrist screen
WhatsApp
WeChat
SMS push
Shake a picture
Connection and matching considerations:
1 ) Make sure the Bluetooth of the mobile phone is turned on;
2 ) Make sure that the equipment is fully charged, please turn it on or charge before use;
3 ) Make sure the device is within 70cm of the phone when pairing the connection;
4 ) When pairing the headphones, make sure that the headphones are turned on.

FREE SHIPPING ENDS TODAY!!!
? Free Shipping Worldwide
Order processing time take?around?24-48?hours before shipment.
Your tracking?link will be sent via email as soon as your order leaves our warehouse.
We?will repair or replace the item?if you get it with?any defects in craftsmanship or breakage.
What's Included?
Smartwatch with Wireless Bluetooth Earbuds
Black?Sport Wristband
Charging cable?
Instructions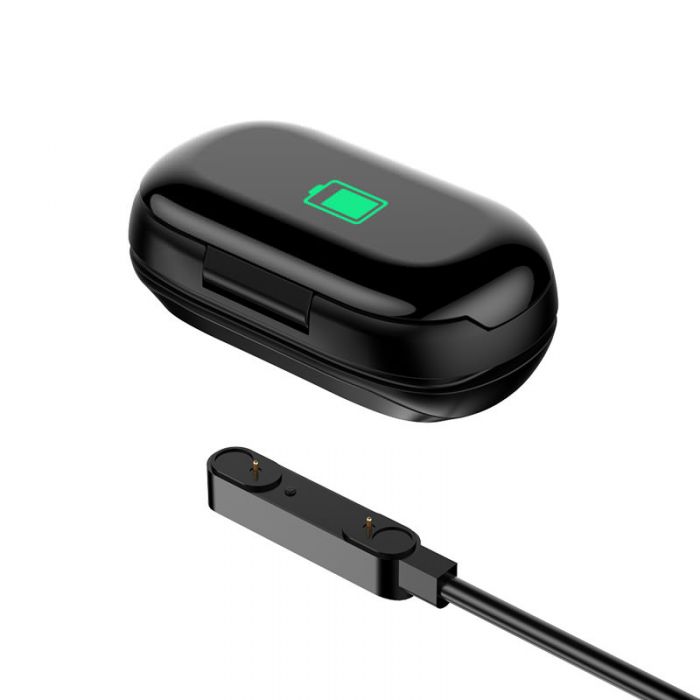 Steps for Pairing and How to unpair earphones£¿
Welcome to buy it!
Have a nice day !
Our guarantee:?
UPDATE: Due to a large increase in traffic, we¡¯re currently running low on this product, so please hurry and place your order.
Click the "Add to Cart" button now!?